SMaRC Day 2022 revealed underwater technologies of tomorrow 
Swedish Maritime Robotics Centre's (SMaRC) annual event on 5 April attracted some 50 participants, who learned about everything from  underwater communication to new monitoring and measurement solutions for applications under the surface of the oceans. The keynote speaker was Sara Mazur, who praised the centre's contribution to the development of the sector. 
This year's SMaRC Day was a long-awaited opportunity to meet in the wake of the pandemic. For half a day, the participants were able to immerse themselves in the centre's research projects and broaden their contact networks. 
"SMaRC develops tomorrow's technical solutions with a focus on the sector's current and future needs. So, it's also important to meet, share our results and make sure that we're headed in the right direction. Furthermore, the day gives our doctoral students the opportunity for direct contact with industry representatives," says Ivan Stenius, SMaRC Director. 
The day's keynote was given by Sara Mazur, Chair of Wallenberg Artificial Intelligence, Autonomous Systems and Software Program (WASP). She began by praising the centre's strong track record in research and then provided an insight into the Wallenberg Foundations' strategic investments.
"It's really fun to be here today, both as a representative of WASP but also for SAAB, which is one of the centre's partners. SMaRC is a great example of how close co-operation between industry and academia can create the skills that benefit Sweden. SMaRC is one of the key centres where this happens," says Mazur, Director Strategic Research at the Knut and Alice Wallenberg Stiftelse.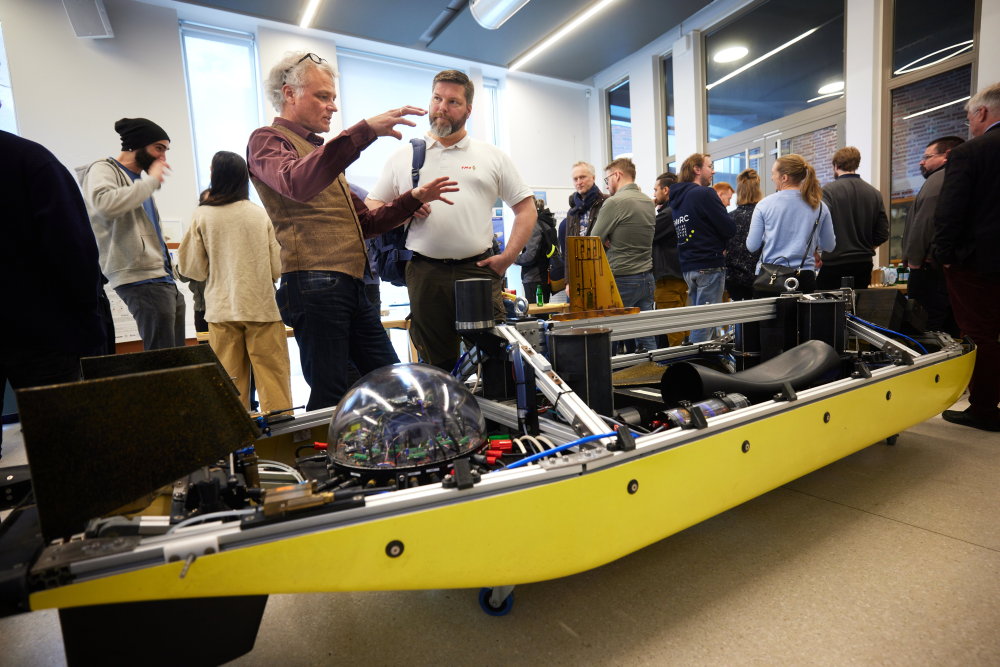 Peter Sigray explains AUV LoLo

Strategic and scientific relevance
SMaRC is run by KTH as host university, and in partnership with, among others, Stockholm University and the University of Gothenburg, with funding from the Foundation for Strategic Research (SSF). SSF's Sofie Pehrsson was there to learn more about the research.
"SMaRC is an exciting project in SSF's centres' initiative for close collaboration between academia and industry. It's about system-changing research and innovations to develop today's technology," says Pehrsson, SSF Communication Director. 
In an international expert evaluation conducted in 2021, SMaRC scored the highest rating for scientific and strategic relevance. A high degree of relevance was also reported by representatives from partners and industry representatives present, including the Swedish Defence Materiel Administration, (FMV), which is involved in several SMaRC research projects. 
"We participate in a number of initiatives, including the development of new technologies for underwater environmental monitoring. And for us, it's technological development and its results that are important – not whether the end-use for civilian or defence purposes. We see multiple benefits of collaborations that add to our knowledge and broaden our mindset," Marcus Höök from FMV said.
Examples from four key areas
On the day, there were about 15 posters on display that provided a range of insights into the four key areas where the centre operates: autonomy, perseverance, perception, and underwater communication.
Doctoral students Viktor Lidström and Elias Strandell Erstorp work in underwater communication. They have two complementary approaches for creating robust networks for underwater acoustic communication. Using field tests and simulations, they develop ways for network nodes to communicate as energy-efficiently and effectively as possible. 
"Among our next steps is to enlist the help of SMaRC's underwater robot Lolo to perform tests that involve a mobile node. We're currently working on basic research, but one of my goals is to commercialise what we're doing in some form," says Strandell Erstorp. 
Adele Dumitrascu likened the project she showed to releasing a tracker dog on the seabed. This initiative is based on the development of a highly compact Raman spectroscopy sensor that can be installed on miniature autonomous underwater robots. The sensor can be used to detect environmental toxins on the seabed much more accurately than is possible today. Right now, the focus is on discovering the highly toxic substance pyrene, but Dumitrascu has far loftier plans for the future. 
"My personal goal is that my project goes all the way and is used to measure hydrocarbons on Saturn's moons," says Adele Dumitrascu.
The project is run in collaboration with Ocean Infinity. Peter Forhaug, from Ocean Infinity, was there.
"We see a future emerging where naval activities are becoming increasingly important, with everything from offshore wind farms to algae cultivation to provide the food of tomorrow. The role of autonomous underwater vehicles is set to become key," says Forhaug, board member of MMT Sweden, which is today part of Ocean Infinity.
Forhaug has been involved in SMaRC since its launch in 2017 and believes that the centre has played a key role in the development of skills.
"MMT and Ocean Infinity are among the users of the technology developed here and we can provide knowledge about what is needed. At the same time, SMaRC is a great place for us to find new employees," says Forhaug.
A point echoed by Peter Strömbäck from the Swedish Defence Research Agency (FOI). 
"For me, it's important to visit SMaRC Day to keep up to date with the latest advances in the field. FOI is a partner of the centre and runs a large number of collaborations with KTH, often with the aim of securing our supply of employees," says Strömbäck, Research Director at FOI. 
If you are interested to learn more about the research and development conducted at SMaRC, you can visit the research centre's open days on 13-17 June in Kristineberg, during which field tests will be conducted into the latest technologies using the centre's own underwater robots.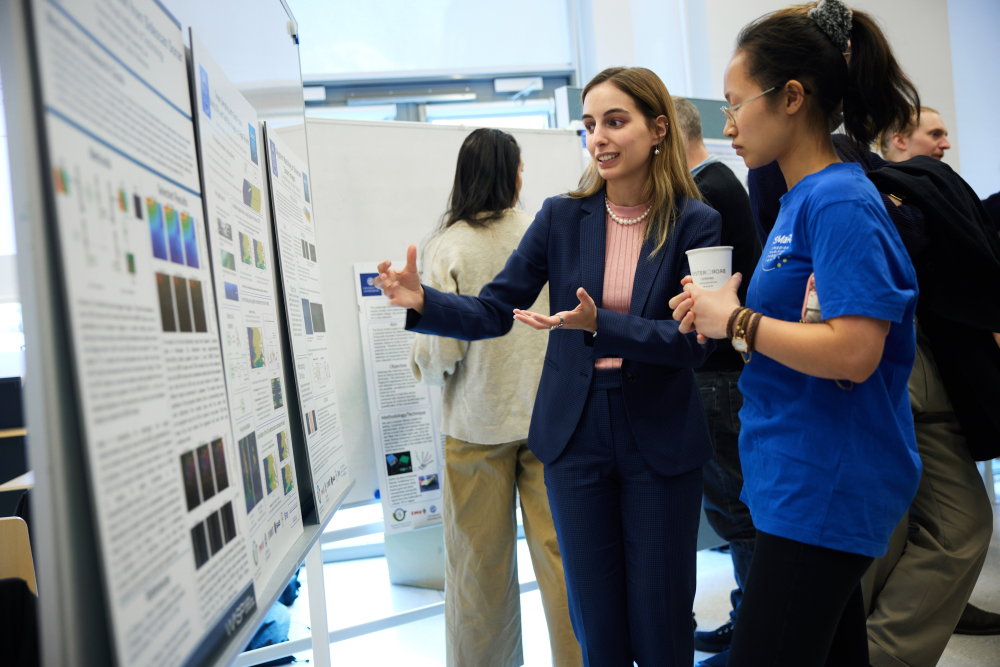 SMaRC doctoral students at the poster mingle.