Successful testing of autonomy on underwater robot in algae farm
Research Engineers Josefine Severholt and Anna Arnwald are working together on developing Small, Affordable Maritime robots, referred to as SAM. SAM is an agile underwater robot that is one of the experimental platforms that is researched on at the Swedish Maritime Robotics Centre. During the last months, Josefine and Anna have been testing the latest developments in colder climates on the Swedish west coast at Kristineberg Marine Research Station.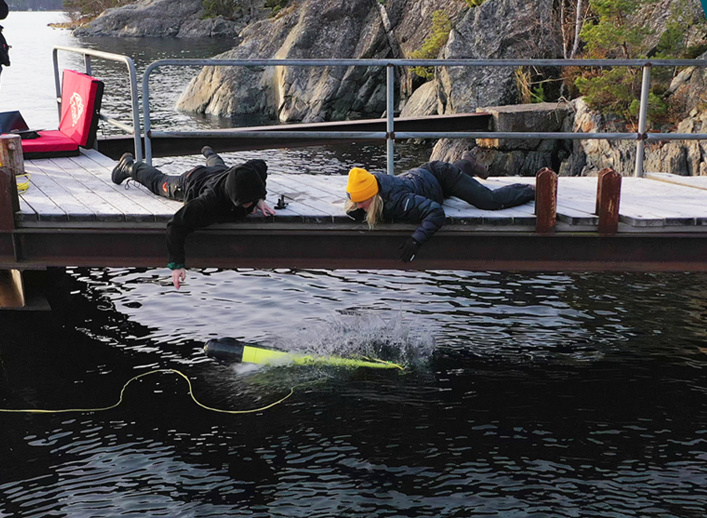 We are testing and developing the autonomy of the underwater robot in algae farms in collaboration with a project that has large algae farms on the west coast of Sweden. We want to autonomously follow the rope carrying the growing algae. It includes developing the underwater robot´s navigation and movement. We need reliable navigation to know where we are, and we need good control of the movement to go in the right direction. It is done with sensors and algorithms, which we are testing right now, Josefine describes.
Anna fills in by explaining in a more technical manner: We are using sidescan sonars to detect the rope. The detection is done by using a sliding window algorithm to distinguish the rope in the images created by the sensor. Once the rope is detected, the onboard controllers will navigate the AUV along the rope. For this, it is important that the positioning and control are precise. Then, we can use the cameras to film the algae for monitoring their growth and state. 

Developing a product in the Nordic environment opens up for making an underwater robot that has better function in colder climates. Nevertheless it presents challenges. The low temperature affects the system by shortening battery time, affecting materials which can lead to leakage, and some electronics are not made to function in cold environments. 
One unexpected issue that arose during the testing was that we couldn't get a GPS fix, which is very important to get an accurate position. We discussed that this could be because of the heavy clouds that day, or possibly the solar storm that occurred last night. Luckily, we have a well developed and tested emergency warning system which is now working very well. This has been crucial to letting us know when something bad happens, such as a leak, or the battery voltage becoming too low due to the temperature, Josefine tells us. 
The technology has huge potential. By getting the autonomy to work in algae farms, the same capabilities could work in other scenarios, like monitoring glacier fronts, offshore energy harvesting, or pollutant tracking of oil spills or chemicals.