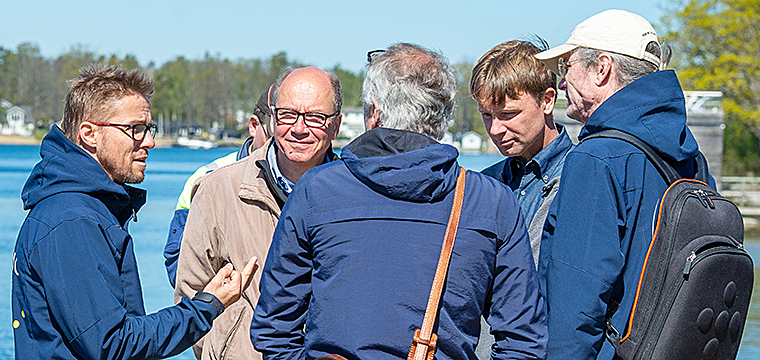 Ivan Stenius, Principal Investigator of SMaRC, visited Gränsö Manor on May 16 for the preparations of the autumn's demonstration in WARA PS, the WASP arena for public safety.
WASP is the largest individual research investment in Sweden in modern time. It's an initiative in basic research, education and recruitment within autonomous systems and software development with Linköping University as host. The WASP programme will continue in 11 years and end in 2026. The Knut and Alice Wallenberg Foundation provides SEK 3 billion of the funding, with further contributions from the participating universities and industrial companies.
At Gränsö, researchers from KTH Royal Institute of Technology, Linköping University and Lund University met with representatives for the companies Ericsson, Axis Communications, and several of Saab's subsidiaries. Plans were drawn for a common rescue scenario for the exercise in September 18–19. The scenario would contain autonomous collaborating rescue vessels in the water, unmanned underwater vessels and flying drones.
"Our projects have a lot in common: we combine research and development and we have several similar research questions. We also want to get scientists out into messy real-life situations, away from the idealised computer models we normally work with", Ivan Stenius says.
More information
More on the preparations in Gränsö at Linköping University's web site
To experience the unexpected – report from the WASP demonstrations 2019